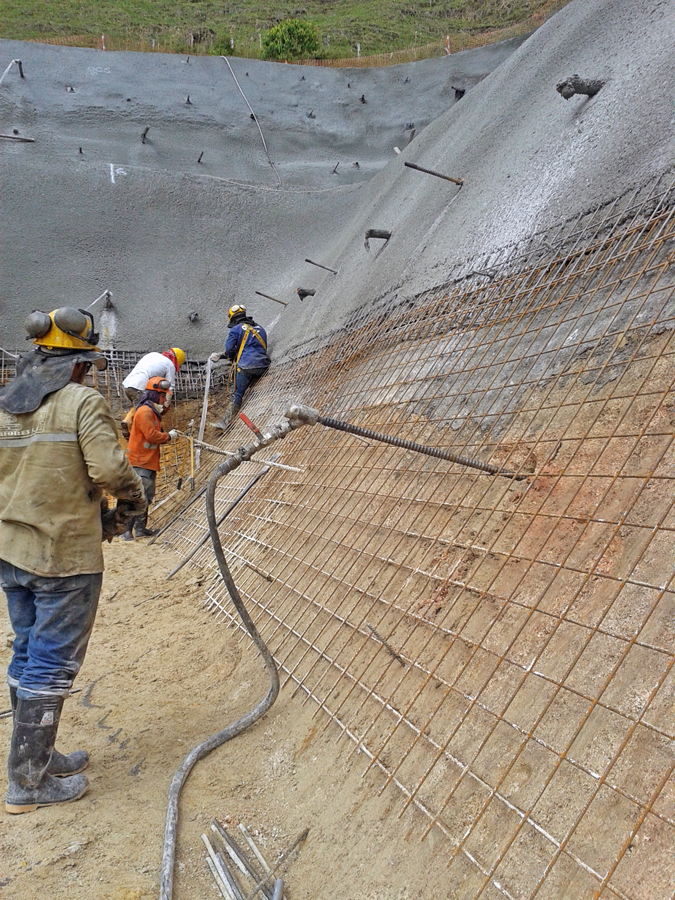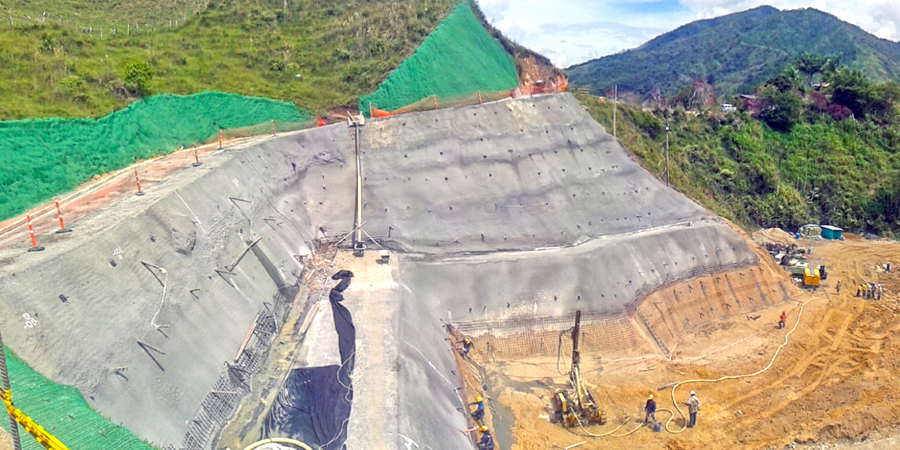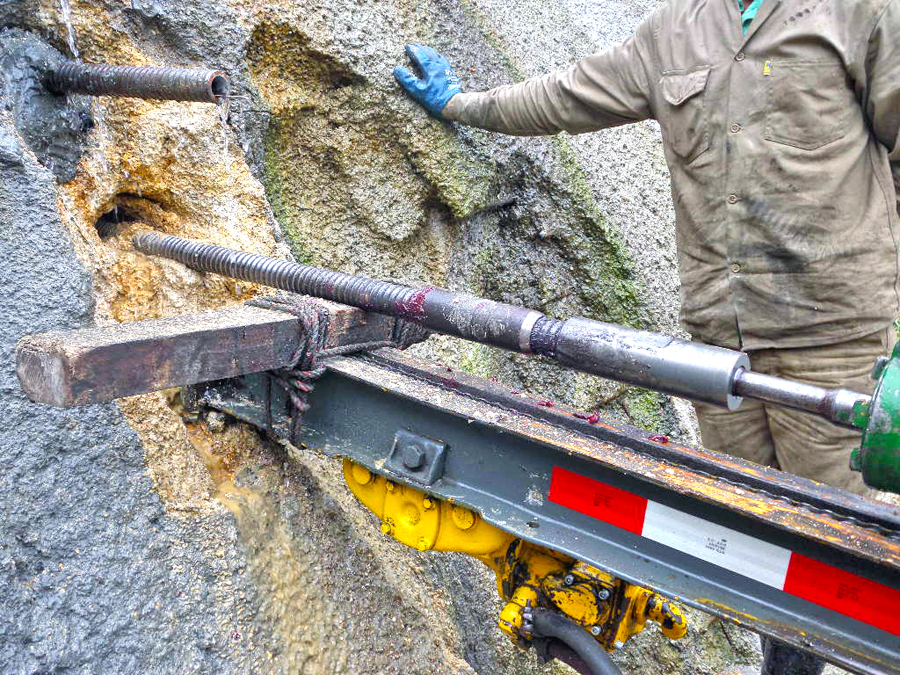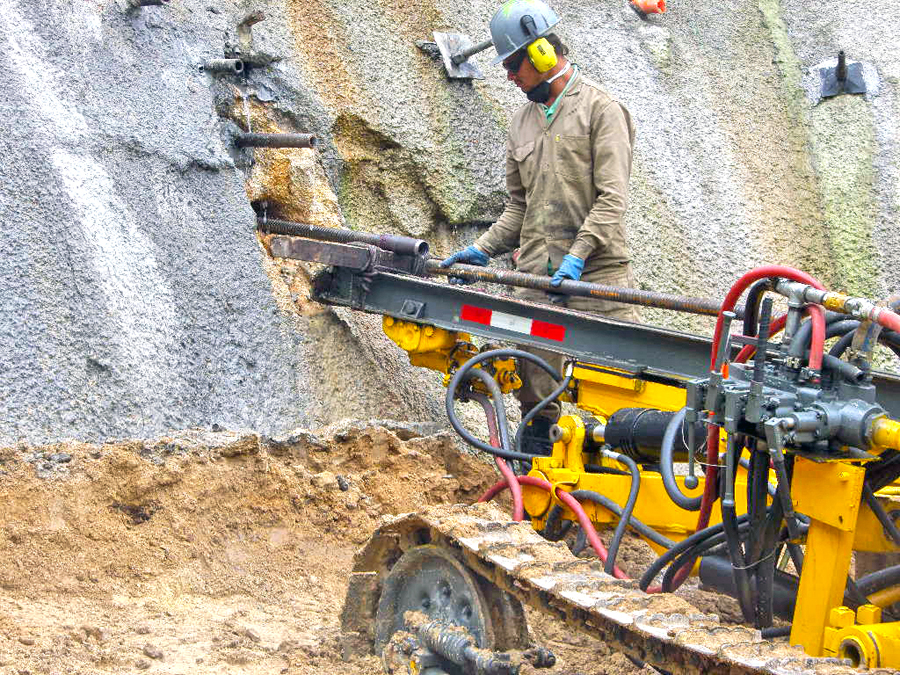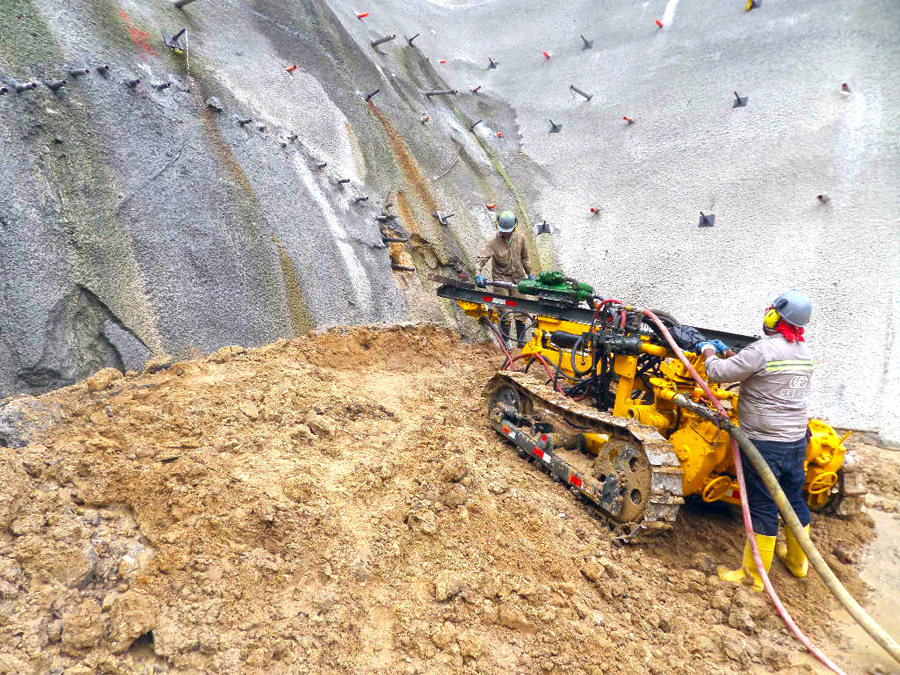 Complete System Solution for Application in highly weathered Rock Mass: DSI Hollow Bar System for the Alejandría Hydropower Plant
In Alejandría near Medellin, Colombia, the new Alejandría hydroelectric power station is being built. The power plant will include two turbines with a maximum output of 7.7MW each. After its completion, it will produce 94,5GWh of energy per year on average.
In the summer of 2014, construction work began at the slope as well as the exit portal of the future 2km long headrace tunnel. During all stages of constriction, the DSIHollow Bar System was used for four different applications.
First of all, the foundation of a 20m long bridge for the access road was stabilized using 12m long Type R38-550 DSI Micropiles. Additional DSI Hollow Bars were used near the river bank for slope stabilization purposes. Furthermore, DSI Soil Nails were installed for stabilizing the tunnel exit portal. For an efficient stabilization in highly weathered rock mass, up to 20m long Type R32-280 DSI Soil Nails were used.
Finally, Type R51-660 DSI Hollow Bar Spiles were used as pre-support for stabilizing the tunnel portal. The DSI Hollow Bars, installed in difficult ground, were 9m long.
All hollow bars including accessories were produced by DSI Austria and temporarily stored at DSI Colombia in Medellin so that the products could be supplied to the job site just in time whenever needed.
Work was made difficult by Columbia's frequent and heavy precipitation during the country's rainy season. Furthermore, conventional ground support could not be used in the highly weathered rock at the jobsite. Ground conditions were too unstable to carry out drilling and installation of rock bolts, spiles and micropiles in two separate steps. DSI's competence in self-drilling technology was of decisive importance, and the DSI Hollow Bar System, which can be installed in a single operational step, proved to be the ideal solution.
DSI Colombia supplied a complete solution to the client and provided competent technical support for all four applications of the DSI Hollow Bar System. The general contractor was very satisfied with the DSI Hollow Bar System, which was used for the first time in Colombia in this extended application.
Back
More Projects