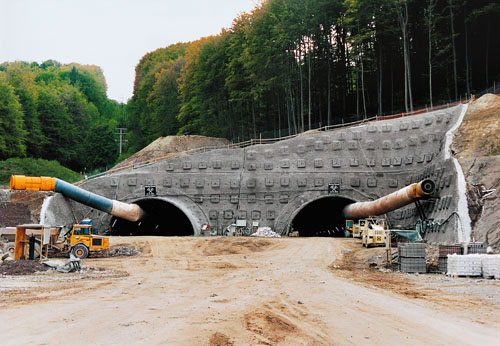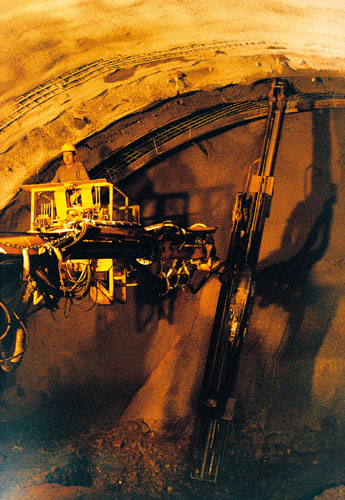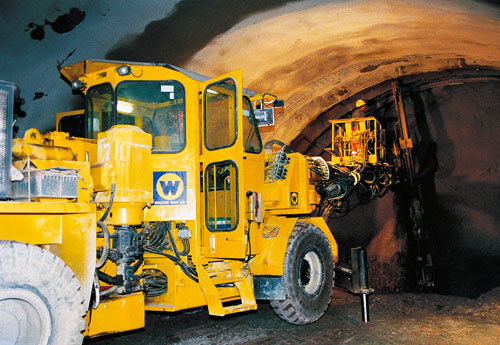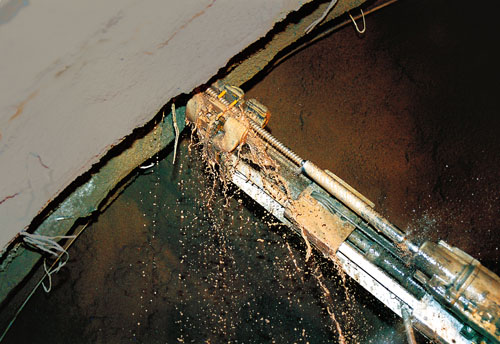 DSI Hollow Bar Anchors secure Eichelberg Tunnel
Eichelberg Tunnel, A71 Erfurt - Schweinfurt, Thuringia, Germany
In connection with the new construction of federal highway A71 from Erfurt to Schweinfurt, the Eichelberg Tunnel has been under construction in the Suhl section since early March 2003. The tunneling works are to be completed by the end of July 2005, whereas the overall new section of the A71 is to be completed by 2006.
The Federal Republic of Germany, represented by DEGES (Deutsche Einheit Fernstrassenplanungsund -bau GmbH), awarded the construction of the Eichelberg Tunnel lot to the Eichelberg Tunnel JV consisting of Walter Bau-AG vereinigt mit DSI, underground works division, and Walter-Heilit Verkehrswegebau, Munich office. The contract sum amounts to €47.2 million.
The Eichelberg Tunnel JV completely prepares the project, approval and working drawings for the tunnel.
The tunnel consists of two 1,100m long tunnel bores with an excavation section of about 93m3 each for a two-lane highway. The driving lanes have a total width of 8m and 1m wide emergency sidewalks on both sides. Two walkable and one drivable crossover between the two tunnel bores serve as escape routes.Both tunnel bores have a breakdown bay at the centre.
To operate the tunnel, a service building North and a sub-centre South are required as additional structures.
As a preparatory measure, first in the North and subsequently in the South, portal sections were supported with shotcrete and soil nails,with additional support provided by ground anchors acting against a cast concrete face. Subsequently, the tunnels headings were driven from the North portal using the New Austrian Tunneling Method (NATM), comprising of spiling and shotcrete. Having driven the South entrance section, two additional headings were driven from the South portal in opposite directions.
Depending on the rock classification, the three and four part tunnel arcs are spaced between 0.75m and 1.75m to support the crown. The anchor systems comprise SN anchors 25mm and DSI Hollow Bar Anchor bolt anchors R32N in anchor lengths from 4 m to 6 m according to the rock properties. The working face is supported with tubes 42.4mm,driven bars 28mm or self-drilling spiles, each 3.5m to 4m long.
After the breakthrough of the tunnel, the side walls and floor were cut on the return drive and subsequently lined with an internal facing, with the tunnel being essentially built as a vault with a bench and only getting a floor vault in worst areas. In the sections of stable ground, the internal lining is constructed in two steps: first with a bench or a 40cm thick reinforced floor vault cast with B35 waterproof concrete and subsequently with a 35cm or 40 cm thick reinforced vault cast with B35 in cast lengths of 12m.In the entrance areas the internal lining thickness is increased to 60cm,with block joints being executed as press joints. The concrete used has a high frost resistance.
Back
More Projects